In 2021 the Township of Essa initiated its Operation Brain Freeze campaign in an effort to promote safe cycling etiquette, with a focus on the importance of wearing property fitted helmets.   
Operation Brain Freeze is a well loved program that allows Municipal Law Enforcement Officers to interact with youth in our communities that practice safe cycling and wear properly fitted helmets.  Youth that are "caught" by Officers are awarded a certificate, a voucher for a frozen treat, in addition to a bike safety booklet from the Ministry of Transportation.
In 2022 Essa expanded Operation Brain Freeze to include a monthly draw to award a prize.  When youth are caught by Municipal Law Enforcement Officers, their name will also go into a monthly draw for the chance to win bicycle safety equipment! 
Operation Brain Freeze runs from May 1 to October 31 each calendar year.  We would like to wish all youth the best of luck in getting caught, and remember - CYCLE SAFELY!! 
Bicycle Safety - It Starts With YOU!!
Every bike ride begins with putting on a helmet. Its important to wear a helmet that fits correctly.  Wearing a helmet while riding your bike is the law in Ontario for cyclists under 18.
It's important to be safe while riding your bike.  We have compiled a list of bike safety tips that should be followed to have a safe enjoyable ride.
Always wear a helmet
wear bright clothing 
make sure your bike has reflectors mounted on the front and back
ride a bike that fits 
know the rules of the road
if riding on the road, ride in a straight line on the right side of the road in the same direction as traffic
if riding on the sidewalk, be mindful of pedestrians
walk your bike across streets and make sure you look all ways for traffic
ride in a straight line
use hand signals 
Left Turn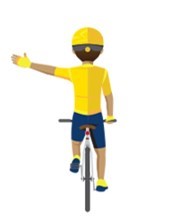 Right Turn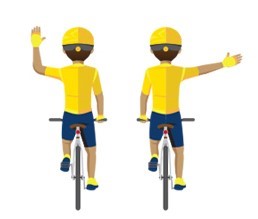 Stop