Automated Speed Enforcement FAQs>
The Automated Speed Enforcement pilot program for Essa Township will be a valuable tool to assist with improving traffic safety for its residents and commuters that travel through the area. Speed cameras will allow traffic officers to focus elsewhere broadening the coverage area for enforcement activities. Traffic complaints are one of Nottawasaga OPP's highest calls for service and a program such as this increases our ability to respond. This pilot project is not about revenues generated. Its sole purpose is to slow drivers down and ensuring that everyone gets to their destination safely. With our partners at Global Traffic Group, I am confident that this will be a success and impact speeds on Essa Township roadways.
Automated Speed Enforcement cameras will be live in Community Safety Zones in Essa Township this coming November 2023. 
As ASE is new to Essa, we are providing answers to some Frequently Asked Questions about ASE.  While we have done our best to provide you with relevant information regarding ASE, if you still have further questions that are not answered here, we encourage you to reach out to us directly!
Each municipality uses different methods and techniques to help enforce speed limits – which are laws, not guidelines. ASE is one methods that has proven to be effective in other Canadian provinces and around the world. Municipalities have been collecting speed data in school zones and community safety zones, data which is now being used to pinpoint where ASE can be implemented to help protect our most vulnerable road users.
While traditional enforcement will still be used, ASE is a complementary method that enables police officers to focus on other critical and time-sensitive tasks. Through ASE, incidents of speeding can be detected on an ongoing and consistent basis, ensuring that school children and other road users always feel safe, not just during traffic blitzes. Using ASE consistently also lends to altering driver behaviour for ongoing road safety.
Automated Speed Enforcement has proven to increase adherence to the posted speed limits by as much as 43% in other municipalities.  Safety is always at the heart of Essa.  Essa is doing its best to increase safety on our roads.  We are excited to bring ASE technology to Essa!
In respect to innovation and technology surrounding ASE, Global Traffic Group Ltd. is the vendor of choice for Essa Township.  Global Traffic Group Ltd. is a reliable partner experienced with Automated Traffic Enforcement and Roadway Safety Technology.  They have a proven track record in a wide range of jurisdictions, and have led the industry in automated traffic enforcement and roadway safety technology innovation since 2003.  They have in depth knowledge of the regulatory requirements and technical demands of operating ASE Programs.
ASE Cameras help to enforce speeds limits on our roads.
ASE units are an important reminder to drivers to slow down in areas where children and other vulnerable road users are.
Drivers travelling the posted speed limit are more likely able to stop in the case of a spontaneous event.  Lower speed can also mean a less severe outcome.
If you drive the posted speed limit, ASE will not affect you at all.
Evidence shows that driver behaviour begins to change over time with a "halo" effect created. This means that drivers may begin to adhere to the speed limit in areas even where ASE is not present, resulting in safer and more peaceful communities for everyone.
There is no cost to the municipality.  Global Traffic Solutions provides the technology and systems required for the program to efficiently run.  Revenue generated through the Program is split with the vendor.
All revenue received by the municipality will be used to improve traffic calming and road safety measures - the funds go back to the community for improvements to overall road safety and to further promote traffic calming measures.
In accordance with the signage requirements of O. Reg 398/19, the "Municipal Speed Camera Coming Soon" signs will be displayed for 90 days.
Following the 90 days, the "Municipal Speed Camera In Use" signs will be posted in the designated Community Safety Zone.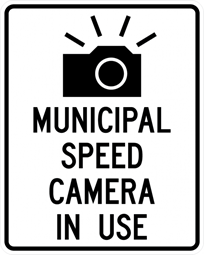 Provincial legislation permits municipalities to create by-laws that permit the use of ASE units exclusively in school zones and community safety zones.
There will be no disclosure with respect to camera active times under the Program. 
Observing posted speed limits 24 hours per day, 7 days per week, will ensure that drivers are not issued a ticket under the ASE Program.
The registered owner of the motor vehicle is liable for the speeding ticket.
Owners disputing the alleged contravention have the following options available to them:
Pay the Penalty Notice
Request a review by a Screening Officer
Request a review by a Hearing Officer
Convicted owners will not be subject to demerit points.
Registered owners of vehicles that are caught by ASE cameras travelling in excess of the posted speed limit will receive a Penalty (Offence) Notice in the mail.
A photograph of the vehicle that was speeding will be on the offence notice along with the enlargement of the vehicle's license plate.
The location of where and when the speeding offence occurred, as well as the speed of the vehicle and the posted speed limit will also be on the ticket.
An online payment portal will be available for payments
In person by cash, cheque or debit
By mail